17.06.2020

Revamping the Larouche brand
A story of brand evolution
It's never easy to do things for ourselves! It requires introspection, scrutiny and humility. This was exactly our frame of mind when we set out to update the Larouche brand. And we are rather proud of the end result. Here is the story of our brand's evolution.

Foreword
A state of mind
Mr. Neumeier was absolutely right! We fully support his vision of what a brand is. It is with perception, soundness and authenticity that we've undertaken our own brand's renewal.
As we do for our clients, it was important for us to reveal and crystallize the true nature of our organization, which is perceived, felt and understood through our way of communicating, being, thinking and creating. Our introspective work began with the desire to express what made us different in the industry—all while evoking our true advantages for our clients in the manufacturing, high-tech, specialized services and retail sectors.

Chapter 1
Who are we?
Much in the same way that we approach it with our clients, we had to delve into our roots to identify the essence of our brand. This essence emerged naturally from a profound belief that has shaped our work for almost 25 years. To generate tangible results, communication must be at the core of our clients' businesses. In fact, everything begins and everything converges towards this idea.
Addressing complex company challenges with creative and impactful communications solutions—without losing the business intelligence—requires two passions, dual skills and a dual state of mind. If our responsibility as communications professionals is equivalent to the trust placed in us by our clients, quite frankly, connecting business and communication is no trivial matter. The dual nature of business and communication is the distinctive approach our clients recognize us for. It is the unique value we bring to the table.
Chapter 2
Defining the Larouche experience
Larouche's unique approach must be transformed into a concrete experience for our clients. We have therefore established four pillars, which guide our thinking, creative process, and actions. These are the four anchor points that express the agency's authenticity and which serve as the foundation of our brand experience:
Your business is our business! We foster an unconditional commitment to our clients as true business partners.
The brand as the main asset! We view the brand as the real backbone of an organization. We act as the brand's true vanguard.
Strategy and creation in perfect synergy. We believe that ideas—and their subsequent deployment—are equally important. Our creativity is centred around our clients' business intelligence.
Create impact and results. Without creativity, there is little impact. Without impact, there is no success. For us, compelling creativity is a direct extension of a business.
Then, quite naturally, we revealed our new slogan: We create business. A slogan that perfectly expresses the moral contract that binds us to our clients. This contract helps to create tangible growth and long-term brand value.
Learn about our approach here.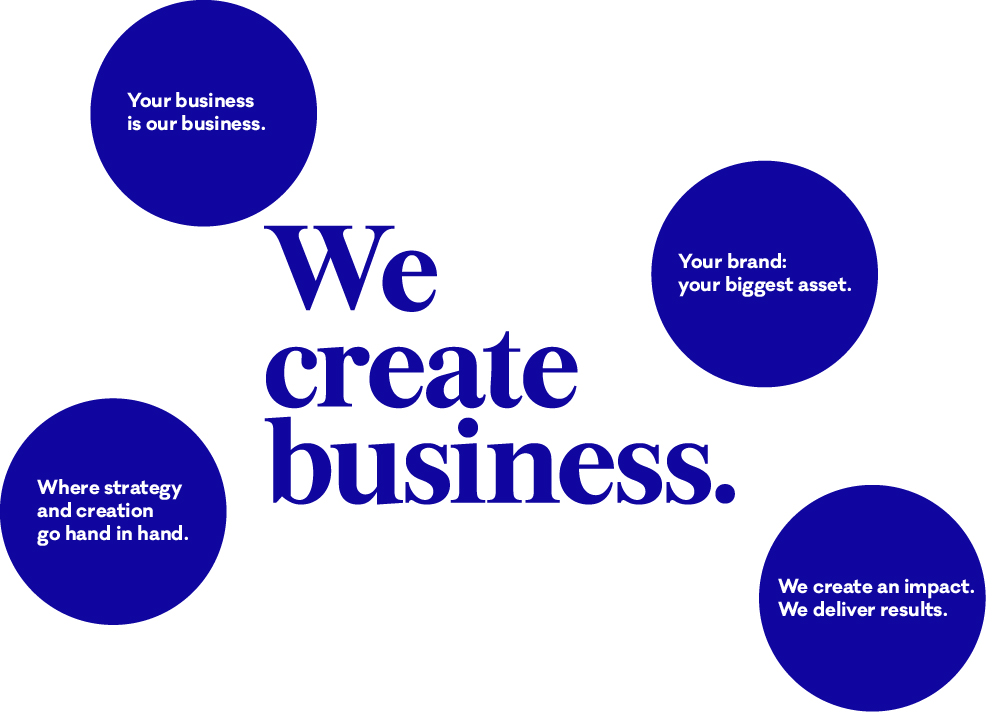 Chapter 3
Where are we?
Then came the agency's positioning. Where are we in this industry that is experiencing constant upheaval? Are we a traditional or atypical agency? Are we truly an agency in the literal sense? Do we belong to the business or communications sector? Our true nature appeared when we dove into the history of major mandates. For our clients, we are essentially a link between business strategies and all communications initiatives.
We are naturally comfortable working in a cantilever-like position, right in the middle between communication and business, which is unusual in this industry for an agency of our size. Our network of partners enables us to cover more specialized dimensions for a much broader offering. This pivotal position is all the more relevant as we place the brand at the heart of our work and recommendations.
As a result, Larouche Marketing Communication became Larouche Branding and Communications. Our name strengthens our position as a brand catalyst for our clients.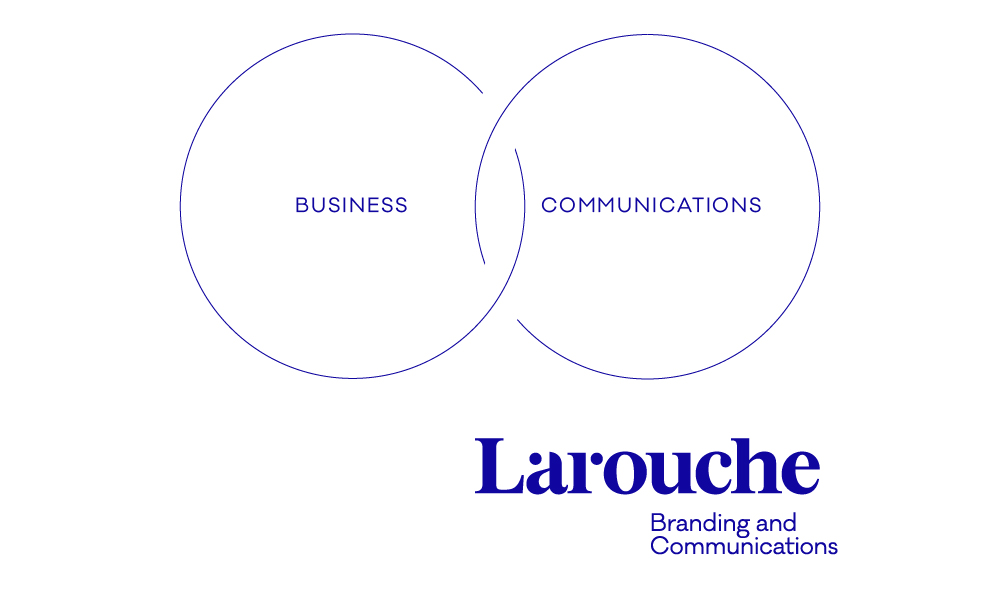 Chapter 4
Updating our brand
To mark the evolution, updating the Larouche brand also required a complete overhaul of our visual identity. Once again, as we do with all our customers, we put all aspects of our brand in perspective (its essence, foundations, positioning, promise and signature) to better capture its dual nature. The words " business " and " creative " were the first parameters used to design Larouche's new visual identity.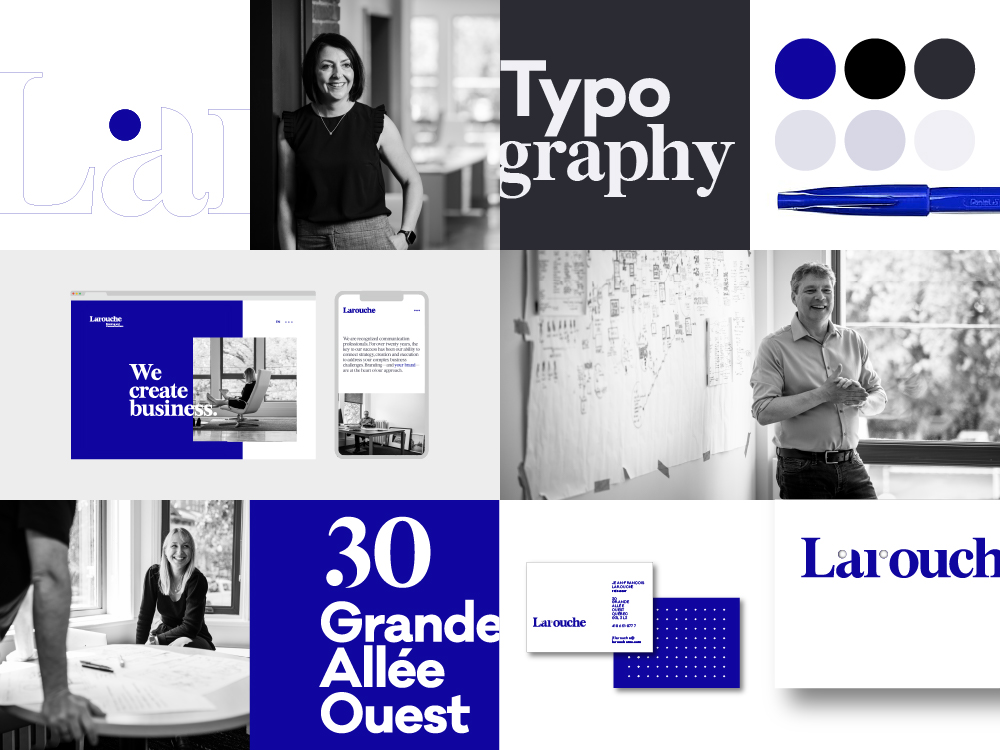 The result is simple and sober codes borrowed from the major global brands in the business consulting industry, combined with the daring brilliance of decidedly creative brands. We believe we've aptly met the challenge, expressing our distinctive positioning.
Graphically, the new visual identity is comprised primarily of two structural elements: the circle and the electric blue colour. These two graphic components contribute to optimal retention and are featured in all of Larouche's communication tools to create a strong, distinctive identity in direct alignment with the brand's personality. The black and white journalistic/photographic approach reinforces and completes the visual identity.
Chapter 5
Today's new Larouche
Our brand revamp will gradually be added to all of our digital and print communication tools. It will also be showcased on social media. It will guide everything we do as an agency and as communication professionals.
Our new workspace, located at 30 Grande Allée Ouest in Québec City, is also an essential ingredient of this renewed brand experience. The brand's focal point is the layout and atmosphere conducive to collaboration and exchanges, a space within which we create business along with our clients.
Chapter 6
We create significance in business
Our new slogan is more than just a slogan. It is a genuine culmination of the best of ourselves, our experience, our commitment and our passion for clients' businesses.
Every day, we have the great privilege of being in direct contact with major entrepreneurs and remaining at the heart of their decisions. We are fortunate to contribute to their influence throughout North America and elsewhere around the world. We create business means a lot to us. Our clients are extremely innovative in their respective markets and deserve the same creative intensity expand in their respective markets. That's how we create business: by connecting business and communications to generate tangible growth!
Let's talk!
Feel free to contact us to discuss our approach or explain your business challenges. We will deploy the same energy that we have invested to revamp our own brand. Your business is our business!
Contact us today.