20.05.2020

New website for la Fromagerie de l'Île-aux-Grues
La Fromagerie de l'Île-aux-Grues, also known by its trademark Fromagerie de l'Isle, recently launched its brand new website. Designed and produced by the Larouche team, the site completes a global overhaul of the Fromagerie de l'Isle brand, initiated over a year ago, in particular through the implementation of a new visual identity for product labels and all marketing communications initiatives of the Fromagerie.
The Île-aux-Grues fromagerie is the largest artisanal cheese dairy in Canada. Its fine cheeses, including Riopelle de l'Isle, are recognized worldwide. Its aged cheddars come from a century-old tradition and know-how. Without a doubt, the Fromagerie de l'Isle enjoys a totally unique character in the industry, beginning with the straw that gives the cows' milk that unique vegetable character—just like the cooperative model in which the entire production of island's milk is intended for the cheese dairy. For over a hundred years, the cheese dairy has been both the backbone of the local economy and an extraordinary influence on business in the archipelago.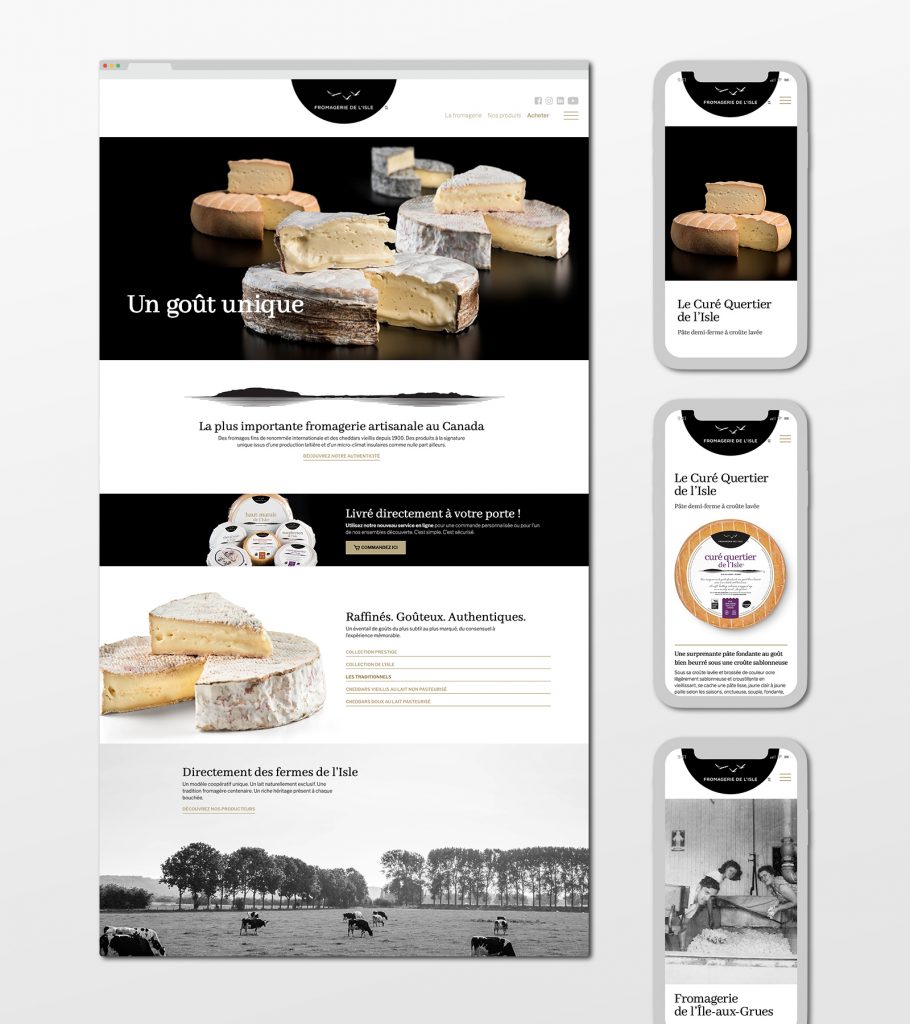 In addition to showcasing its products, the new website evokes the essence of an authentic brand that is rooted in a rich history of social solidarity, pride and cheese-making know-how. "We are both rooted in heritage and modernity. The new site perfectly expresses this uniqueness that sets us apart," says Daniel R. Leduc, Senior Director. The site's launch also coincides with the launch of L'Angélique-À-Marc, a new cheese resulting from a close collaboration between Fromagerie de l'Isle's craftspeople and world-renowned painter Marc Séguin, an island resident for several years.
"We are honoured to contribute to Fromagerie de l'Isle's success. It is a veritable institution in the industry," said Jean-François Larouche, President of the agency. Consumers will soon be able to order the famous cheese products online.








To discover the cheeses, visit ​fromagesileauxgrues.com​.
CREDITS
Client​: Fromagerie de l'Île-aux-Grues
Brand​: Fromagerie de l'Isle
Agency​: Larouche Branding and Communications
Creative strategy and direction: Claude Desrochers
Artistic direction​: Raynald Laflamme and Sébastien Bédard
Integration​: Karianne Jean
Consulting service: Pascale Lafrenière